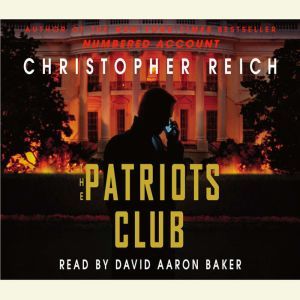 List: $13.75

| Sale: $9.90
The Patriots Club
Format: Digital Audiobook Download
---
Synopsis
Thomas Bolden grew up on the streets, his childhood a blur of fragmented memories. But now he's managed to put his past behind him, find the woman he wants to share his life with, and carve out a successful career on Wall Street. Until, in the blink of an eye, his world is turned upside down. A bizarre kidnapping sends him fleeing for his life, his face everywhere on the TV news, and a violent, shadowy organization is framing him for crimes he did not commit.

Desperately trying to get back to where he was just a day before, Bolden must re-learn the survival skills of his hardscrabble boyhood. But as Bolden–with just eleven dollars in his pocket and hunters all around him–survives one violent, harrowing hour after another, he makes a series of startling discoveries: about a mysterious woman wanted for murder…about an astounding secret rooted in history, among the country's Founding Fathers and families…about a conspiracy lurking in the darkest corners of corporate America–and a deadly plan that only he can stop. And in the process, maybe Bolden will also find out who he really is....

Furiously paced, filled with brilliantly drawn characters from politicians to patriots, from Wall Street players to
battle-hardened cops, The Patriots Club is vintage Reich: brilliant, breathtaking, and impossible to put down until the final unforgettable page is turned.