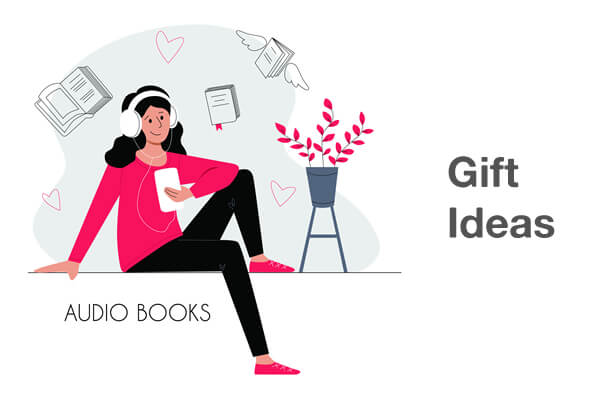 Finding the perfect gift for an audiobook lover can be challenging, but don't worry, AudiobooksNow has you covered. AudiobooksNow offers 3 convenient and flexible ways to give audiobooks as a gift.
Ways to Give Audiobooks as a Gift:
Give any Audiobook or Audiobooks as a Gift
Audiobook Gift Certificates
Audiobook Gift Plan
You can give any specific audiobook or audiobooks to someone as a gift by simply using the "Give As Gift" button for any audiobook. Find the "Give As Gift" button on the details page of any audiobook by click on the title or jacket cover of the book. You may add as many audiobooks to your gift cart as you'd like. Choose to print a gift certificate to put in a card or give in person, or, email the recipient. If emailing the recipient, you can to send the email instantly, or choose a specific date in the future. Adding a personal note to the email is also an option.
Auidobook gift certificates can be given in $5 increments starting at $10 and going up to $200. This allows the recipient to choose their own audiobooks for the ultimate flexibility. After redeeming a gift certificate, the dollar amount will be applied to the users account as a credit and automatically debited at checkout when making a purchase. Gift certificate balances cannot be used for club fees. AudiobooksNow gift certificates can also be printed or email.
AudiobooksNow offers their Annual Club Pricing Plan as a gift. This gift plan gives the recipient an entire year of club benefits. Benefits include, 50% off any 12 audiobooks, deep discounts on everything else purchased, including gifts, double reward points, and access to exclusive sales. This Annual Club Pricing Gift Plan does not start until redeemed.