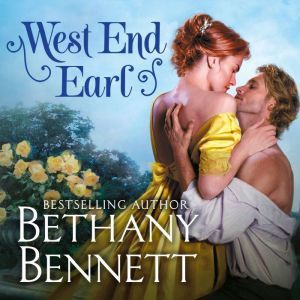 List: $27.99

| Sale: $19.59
West End Earl
Format: Digital Audiobook Download
---
Synopsis
From the series guaranteed to "win the hearts of Regency fans" comes a story of secret identities, unlikely love, and forbidden romances that will warm even the coldest of hearts (Publishers Weekly).

While most young ladies attend balls and hunt for husbands, Ophelia Hardwick has spent the last ten years masquerading as a man. As the land steward for the Earl of Carlyle, she's found safety from the uncle determined to kill her and freedoms a lady could only dream of. Ophelia's situation would be perfect—if only she wasn't hopelessly attracted to her employer.

Calvin, Earl of Carlyle, is determined to see his sister married this season. And he'll do it with the help of his trusted right-hand man. But when he finds out his man is a woman, and that her life is in danger, his priorities change. Their attraction is passionate, all-consuming, and if they aren't careful, it could turn downright deadly—for both of them.